Depuis 2004, Cadmos apporte son expertise technique aux projets audiovisuels les plus ambitieux dans le monde de l'art.

Composé d'une équipe de spécialistes de la réalisation, de la post-production, de la programmation et de la diffusion des images et du son, nous mobilisons nos compétences au service de la qualité et de la créativité des projets qui nous sont confiés.

Les relations privilégiées que nous avons tissées avec les artistes et les différents acteurs du milieu artistique, nourrissent notre créativité et notre expertise pour toujours trouver des solutions adaptées à chaque production.

C'est pour défendre l'exigence de nos clients que nous avons décidé de les accompagner à toutes les étapes de leur projet, depuis la phase de création jusqu'à la diffusion et au suivi des oeuvres.
Since 2004, Cadmos has brought its technical expertise to the most ambitious audiovisual projects in the art world.

Composed of a team of specialists in the production, post-production, programming and broadcasting of sound and images, we mobilize our skills to serve the quality and creativity of the projects entrusted to us.

The privileged relationships that we have forged with artists and the various actors of the art world, nourish our creativity and our expertise to always find solutions adapted to each production.

It is to defend the demands of our clients that we have decided to support them at all stages of their project, from the creation phase to the distribution and monitoring of the works.
2023
2022
2021
Hip-Hop 360 —
Cité de la Musique-Philharmonie de Paris

Picasso à l'image —
Musée National Picasso, Paris
Enfin le Cinéma ! —
Musée d'Orsay, Paris
David Hockney. A Year in Normandie — Musée de l'Orangerie, Paris

Alberto Giacometti / Samuel Beckett - Rater encore. Rater mieux — Fondation Giacometti, Paris

Désir d'humanité. Les univers de Barthélémy Toguo —
Musée du Quai Branly, Jacques Chirac, Paris
Salgado Amazônia —
Cité de la Musique-Philharmonie de Paris
Francis Alÿs - Don't Cross the Bridge Before You Get to the River —
Galerie David Zwirner, Paris
Infinity des Lumières, Culturespaces —
Dubai, Émirats-Arabes-Unis
Pierre Huyghe, After UUmwelt — LUMA, Arles
Christian Marclay, The Clock
— LUMA, Arles
Christian Marclay, The Clock — LE PLAZA, Genève, Suisse
Cally Spooner — GB Agency, Paris
Ouverture — Bourse de Commerce - Pinault Collection, Paris
Diptyque « Le Grand Tour « Voyages Immobiles » — L'espace d'exposition de La Poste du Louvre, Paris
Chaïm Soutine / Willem de Kooning, la peinture incarnée — Musée de l'Orangerie, Paris
Jacques Zwobada, Résonances
—
Anciennes Écuries du musée du Domaine départemental de Sceaux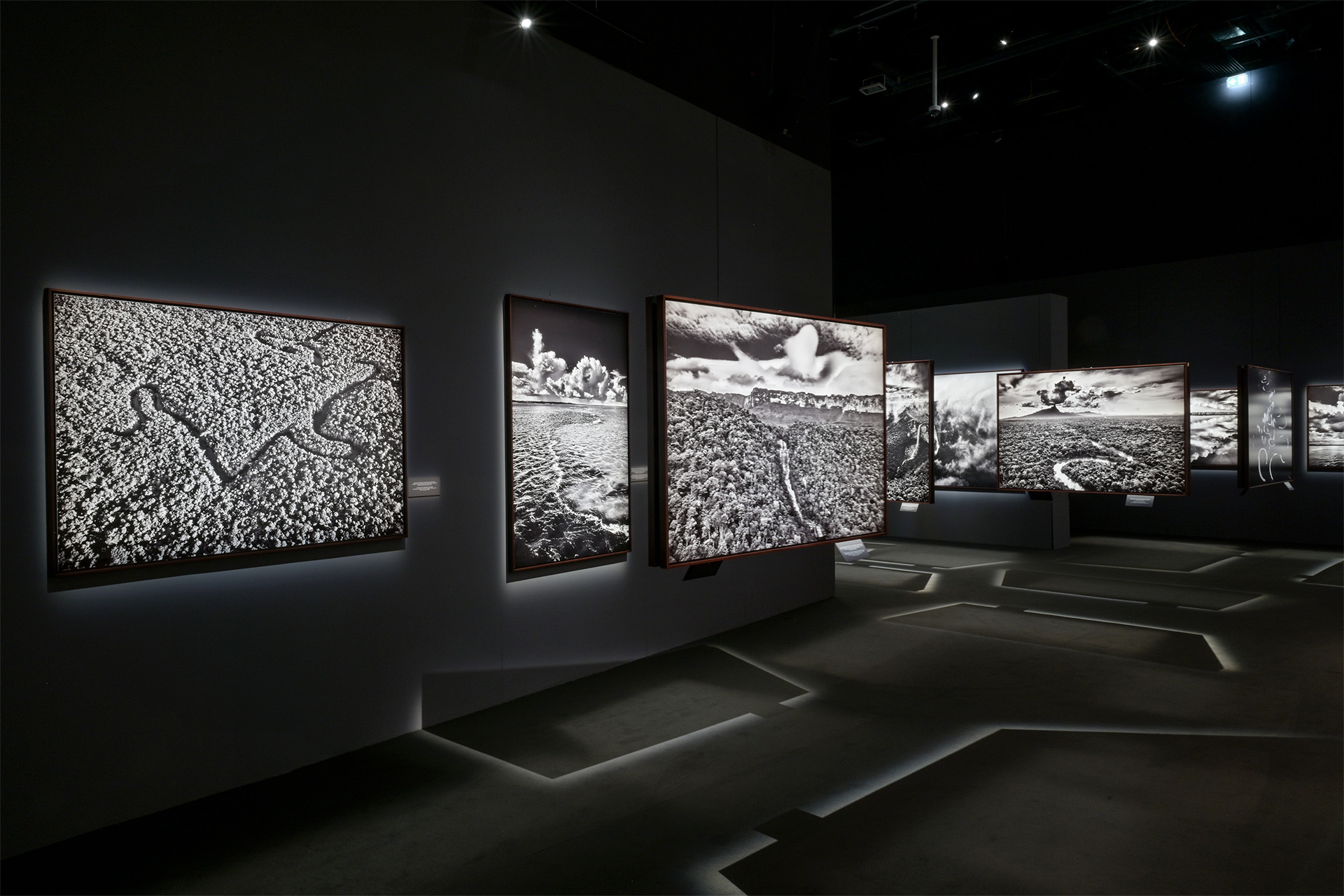 2020
2019
2018
2017
2016
2015
Sophie Calle, Pour la dernière et pour la première fois
—
Toyota, Japon
Musée du Parfum —
Fragonard, Paris

Les Passagers du Grand Paris Express — MAC VAL, Ivry-sur-Seine
Hip Hop, du Bronx aux rues arabes — Institut du Monde Arabe, Paris

Dries Van Noten, Inspirations — Mode Museum, Anvers, Belgique
2014
Sophie Calle, Prenez soins de vous
—
Tamayo, Mexico, Mexique
Pierre Huyghe, In Border Deep — Hauser & Wirth, Londres, Angleterre

Bill Viola — Grand Palais, Paris

Dries Van Noten, Inspiration — Musée des Arts Décoratifs, Paris

Nuit de Chine — Grand Palais, Paris
2013
A triple tour. Collection Pinault — La Conciergerie, Centre des Monuments Nationaux, Paris
Joan Jonas, Reanimation
—
Galerie Yvon Lambert, Paris
Robert Barry, Light and Dark - The Projections of Robert Barry 1967-2012
—
Galerie Yvon Lambert, Paris
Société du Grand Paris - L'identités des Gares du Grand Paris : la gare sensuelle
2012
Loris Gréaud, The Unplayed Notes
—
Galerie Yvon Lambert, Paris
Mircea Cantor, Prix Marcel Duchamp 2011 — Centre Georges Pompidou, Paris

Sophie Calle, Pour la dernière et pour la première fois — Chapelle Saint-Martin du Méjan, Les rencontres d'Arles
Van Cleef and Arpels, Timeless Beauty — Shanghai, Chine
2011
Jean-Paul Goude, Goudemalion, Une rétrospective — Musée des Arts Décoratifs, Paris

Pierre Huyghe, Les grands Ensembles —
Gagosian gallery, Beverly Hills, USA
Douglas Gordon, Phantom — Galerie Yvon Lambert, Paris
2010
Monuments stars du 7ème art
—
La Conciergerie, Centre des Monuments Nationaux, Paris
Sophie Calle, Rachel Monique — Palais de Tokyo, Paris

Pierre Huyghe, The Host and the Cloud — Galerie Marian Goodman, Paris
Xavier Veilhan, RAL 5015
—
Tournage et post-production
Tania Mouraud, Face to Face. En mai fait ce qu'il te plaît ! — Musée Bourdelle, Paris

Elaine Sturtevant, The Razzle Dazzle of Thinking — Musée d'Art Moderne de la Ville de Paris

Paris, ville sensuelle —
Exposition Universelle de Shanghai, Pavillon français
2009
Van Cleef & Arpels, The Spirit of Beauty — Mori, Tokyo, Japon

Kim Sooja, A needle woman - Nuit Blanche — Mairie de Paris
David Michalek, Slow Dancing
—
Opéra Bastille, Paris
Sophie Calle, Prenez soin de vous
—
New-York
2008
Tania Mouraud, Roaming
—
Musée de la Chasse et de la Nature, Paris

Picasso et les Maîtres
—
Musée du Louvre, Paris
2007
Biennale de Venise : Sophie Calle Cultures France
—
Pavillon Français, Venise
//
Eric Duyckaerts
—
Pavillon Belge, Venise
Nuit Blanche : Pleix - Astral Body Church
—
Église Saint-Eustache, Paris

// François Chalet - Les tours du chalet —
Tour Tolbiac, Paris
2006
P
ierre Huyghe, Celebration Park — Tate Modern, London
Paris au Cinéma
—
Hôtel de Ville de Paris, Mairie de Paris
Pierre Huygue
—
ARC, Paris
Nuit Blanche
—
Mairie de Paris